It's the first Wednesday of the month and this means THE BOX has been dispatched. The first box was enormously successful, and we have had more orders placed this month, which means more deliveries… Exciting news, because as we've said before, each month The BOX will include a whole new set of yummy bites, useful gadgets, and outstanding local beverages.
Over 100 boxes have arrived at doorsteps across Lebanon. Open THE BOX and find a selection of delicious wonders that I have found, tasted and wanted to share with all of you out there…
Taste the flavor of diverse cultures, as well as the hard work and professionalism of local vendors and artisans and get to own your own apron especially designed for NGNO.
In addition to the delicious bites I am sharing with you, I have added a funky kitchen gadget, which I believe will add a stylish touch to your table. Finally, the first BOX is out there and you may already be enjoying yours while others are still waiting in anticipation to discover the secrets it carries… Today, you'll be experiencing a part of my journey across the country… and I can't begin to tell you how that makes me feel… Knowing that another person out there is discovering what I have…tasting, appreciating and enjoying a small part of our Lebanon, through food…
It's touching… The best part is yet to come… just as you waited and anticipated receiving your first BOX, you will be getting the same thrill every single month… Every month THE BOX will include a completely different set of items, ingredients, and flavors… It's endless, as endless as the delicious tastes our rich country has to offer, its hidden treasures, its various cultures... You may be asking what the box includes... One thing is for sure… It's heaven for any foodie out there. Let's discover what the May Box includes.
Discover new parts of Lebanon in THE BOX culture, the hard work of local artisans… as well as get to discover our beloved country through the flavors and ingredients of each…
A truly exclusive and unique beverage, this "red" beer is pleasant in all aspects. It has a bright, cognac hue with an amber tint and a glow from the inside. This beer is brewed of caramel malt; its taste is slightly spicy, wonderfully soft and rich. A special edition because "Red" is not filled in bottles but only available in draft at Colonel Batroun.
Anise cookies from Le Gabarit. Special signature cookies with an average of 15Kcal per piece. Those cookies have no added sugar, are low in fat and are suitable for diabetics… They're super delicious as well. Once you start, you cannot stop.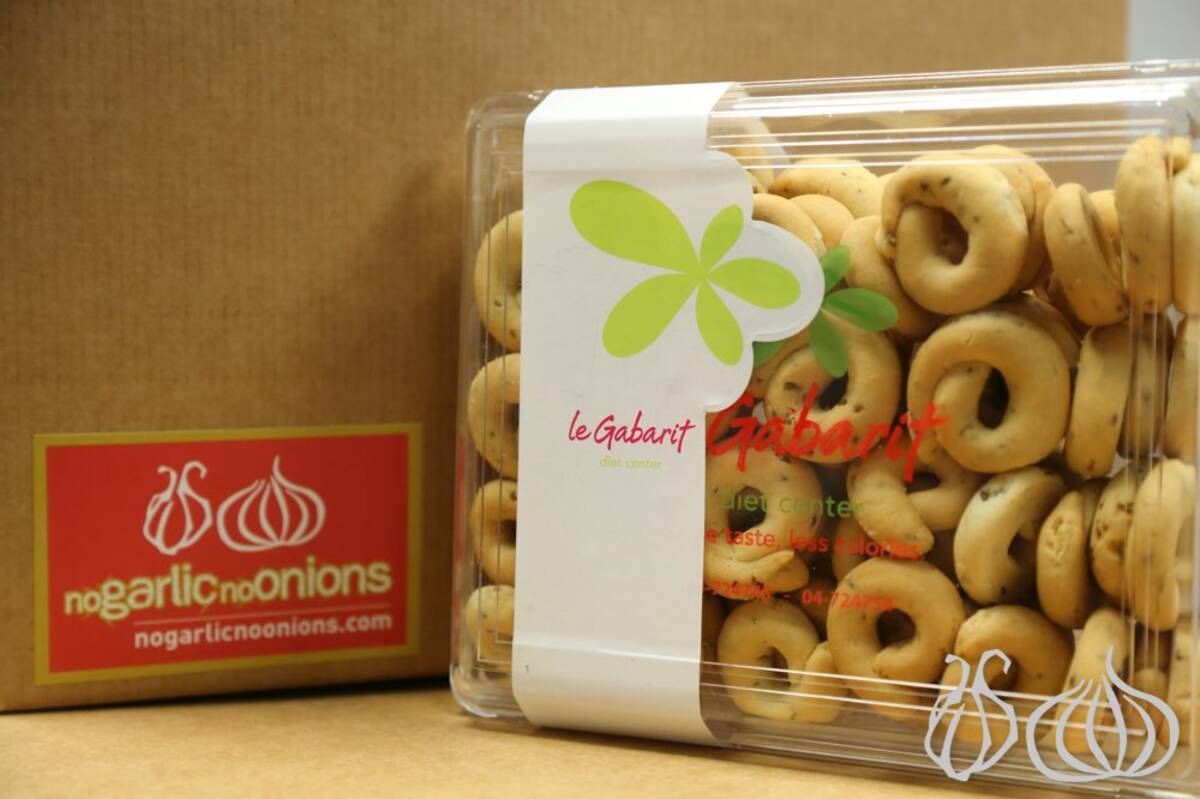 Sip on a delicious mazaher drink by making what the Lebanese call "white coffee." It is in fact more like a simple tea of hot water infused with orange blossom water, made even better with a touch of sugar or honey. Chill the mixture and pour over ice cubes to make excellent iced orange blossom water this summer.
Covered with sesame seeds, Mayrig's sfouf are like no other. Once you plunge into the first bite, you'll quickly forget the stress you've encountered all day...who cares about the calories... they are addictive!
Inspired by the tree of life and blossoming colors, the team behind Gustav bakery have traveled the world to bring back some of the finest essences that make up its flavor. Nutella and pure pleasure!
Taqa Bars make you feel good to go, with four delicious flavors to choose from: Almond Rose, Pistachio Orange Blossom, Coconut Lemon and Hazelnut Cocoa. Taqa Bars contain no artificial colors, flavors or sweeteners, are GMO-free, and are made with wholesome and natural ingredients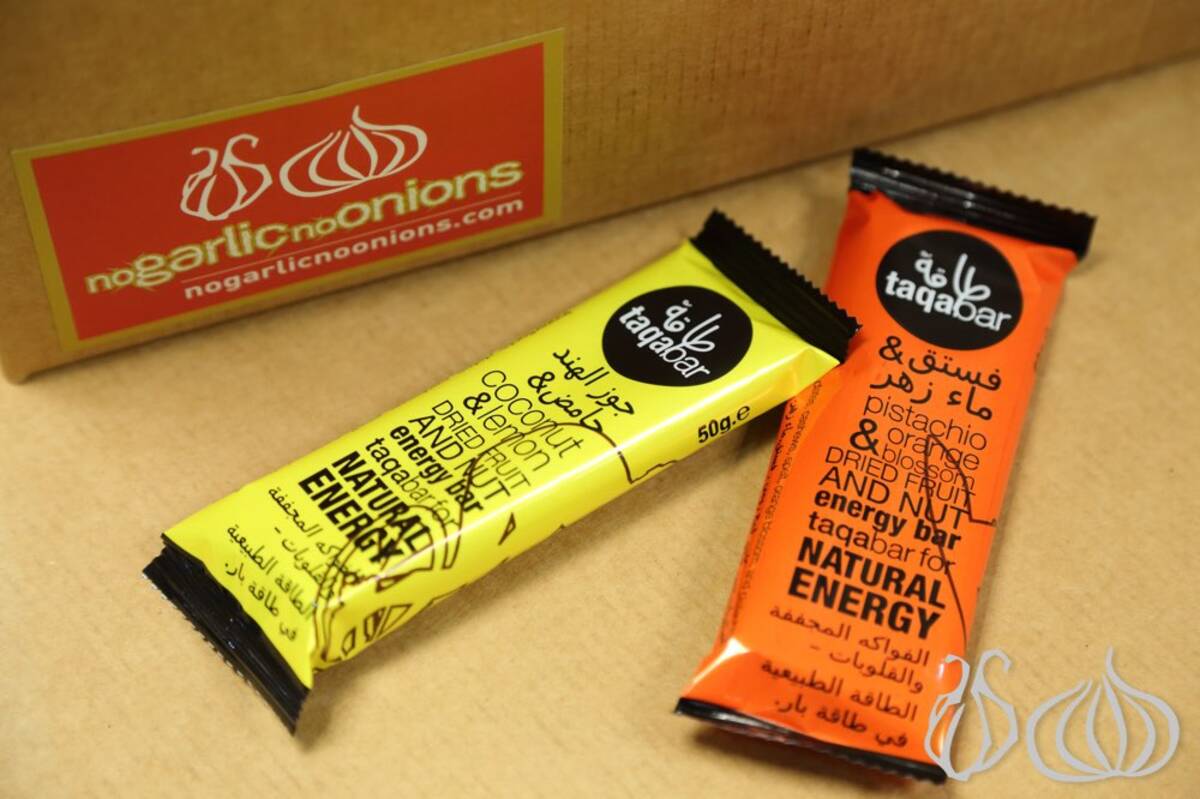 A 100% organic mix of thyme, sumac and sesame makes up the traditional zaatar of our famous breakfast. Mixed with olive oil it can be enjoyed in a bite of bread or in a baked mankoushe.
Vine leaves with Labneh from Mreijat, Bekaa
Dolma is a unique product we found up in the Bekaa. Fresh vine leaves stuffed with goat labneh and olives bathing in olive oil.
There's a reason shirataki noodles are branded as "Miracle Noodles." These translucent, gelatinous Japanese noodles, which are made from the konjac yam, are low in calories and carbohydrates and can be substituted in a variety of recipes that call for pasta.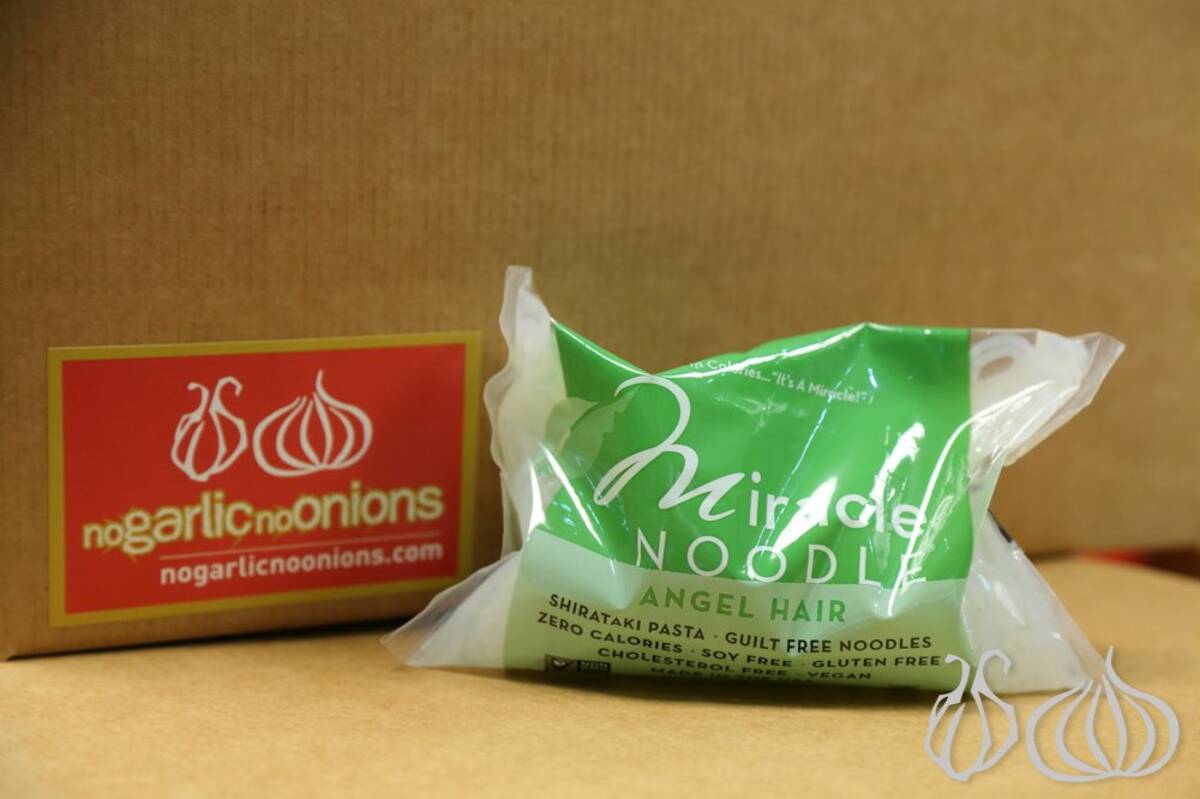 We went all the way up to Jezzine to get you this bread which I believe is one of the best this country has to offer. Bread I love to fill with goat Labneh balls and toast to perfection. That's awesome! Remember, that's not your usual commercial Lebanese loaf but a harder, thicker and different version carefully wood baked.
Made of sourdough and called the seven cereals, these fingers are rich in antioxidants, iron and slow carbs, are suitable for diabetics, and contain lots of fibers for better digestion. You can feel the seeds in every bite.
Homemade Strawberry Jam from Mrs. Safa Elias, Dik El Mehdi
The first time I met Mrs. Safa Elias I was astonished and amazed by her green tomato jam until she got me this fresh, unique and condensed strawberry jam jar. All you have to do is taste, you'll understand.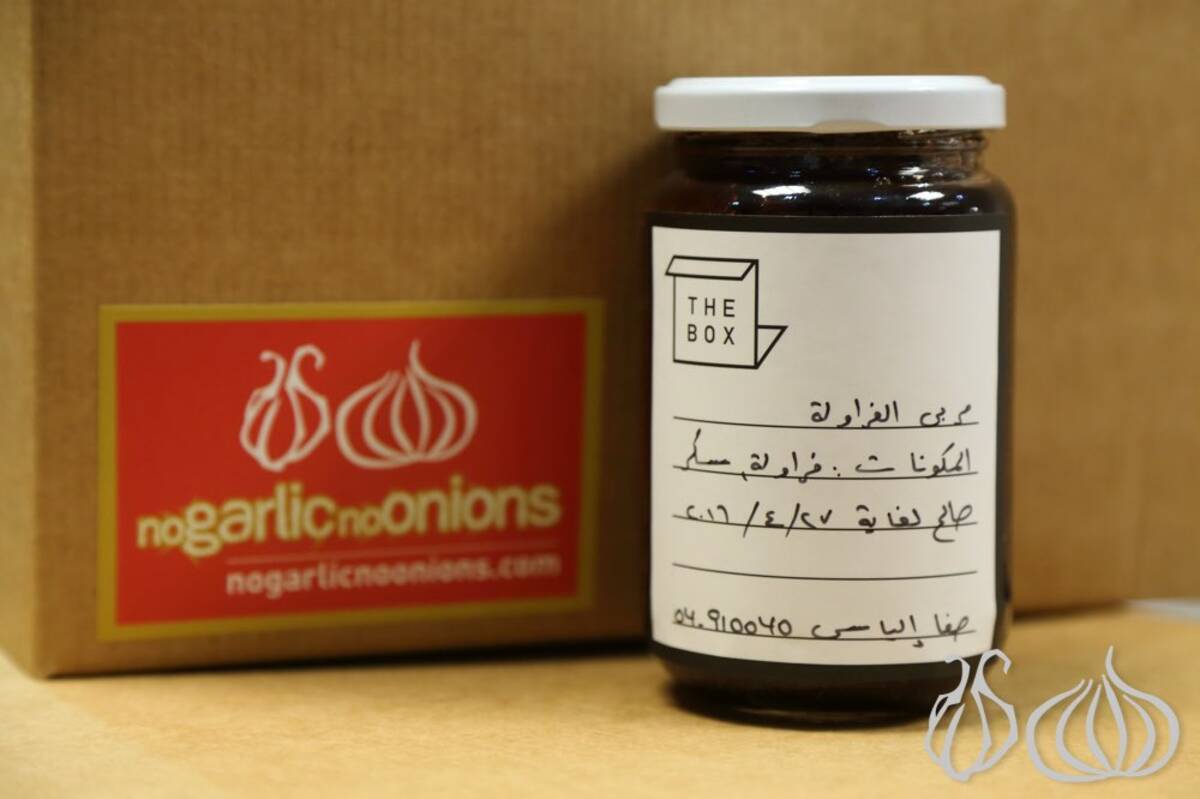 Yes, eat it as is, raw, just like a cucumber. Rich in water and flavor, tender, fresh and non-fibrotic, you will be positively astonished to taste something that good. It's so juicy that the water will drop from it with every bite
Laurel Liquid Soap from Kfar Kela, Marjaayoun
Handmade soap chosen for its rich aromas and beneficial values. It's unique for its rich aromas and good texture.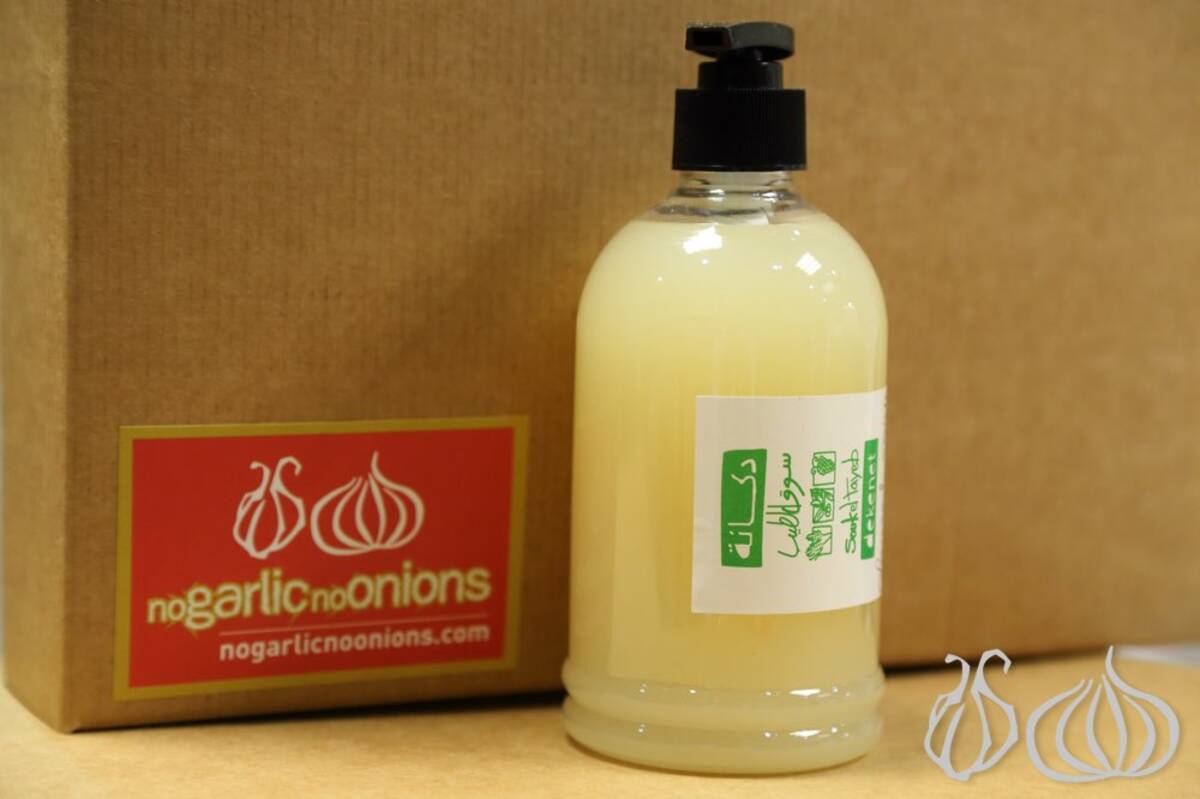 Biscotti are twice-baked cookies (or biscuits) originating in the Italian city of Prato. The biscuits are oblong-shaped almond biscuits, made dry and crunchy through cutting the loaf of dough while still hot and fresh from baking in the oven.
A limited edition kitchen apron specially designed by InLeb for NoGarlicNoOnions.
Box is carefully delivered by Star Taxi Lebanon.
We hope you liked it and see you next month. Scheduled delivery is on the 3rd of June.