Who doesn't love desserts? Perfect pieces of mouthwatering indulgence… But where can you find the best of what Lebanon has to offer, in terms of sweets, cakes, cookies, ice cream... Are you drooling yet? Lebanon has a lot to offer. Touring the world and trying out so many places in various countries, I realized that our little country serves some of the best desserts I have had to date. Join me on a tour around the country to enjoy some of the best in sweet delights...
Olio's pizzas are good as well as the pastas but nothing beats their Foccacia al Caramello Con Gelato Alla Vniglia dessert. Served with vanilla ice cream, this treat is breathtaking. A kind of Italian style pain perdu covered with crunchy almonds, bananas and some caramel ice cream that adds some cold sweetness to the mix. Unique.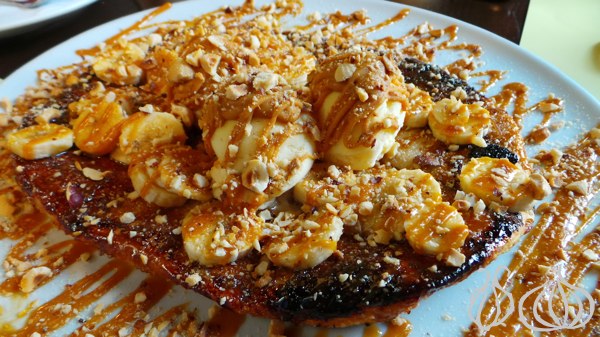 Brioche and vanilla custard, baked a la minute, served with hot caramel sauce and vanilla ice cream - an awesome creation. A faded taste of custard dissipates within the fluffy spongy bread. Its crusty top layer adds a sensual plus. The waiter serves it on the plate then prepares it for you before you add the caramel sauce. The bread pudding feels like a Pain Perdu but tastes nothing like it: it is simply unique and worth trying. Expect to wait 20 minutes for it to be freshly prepared.
That's a hell of a generous dessert featuring four scoops of ice cream—marzipan, almond, pistachio, and rose water—stacked high with Lebanese cotton candy better known as "ghazel el banet". The mix is then decorated with crushed pistachios. Named after the highest mountain in Armenia always covered with snow. Cut a bite of ice cream, cover it with cotton candy and enjoy... What a dessert! So light and so fresh... it's finger licking good.
Crunchy Hazelnut Orange Cream (fresh orange segments, hazelnut biscuit filled with anorange cremeux, meringue, homemade candied orange peel top). Served in a bowl, a long finger of hazelnut biscuit lay majestically. Cut into this biscuit and enjoy the aromas that will fill the room. A line of soft meringue, a round piece of biscuit with cream lay on a bed of orange peel. A crunch and explosion of flavors follows…from sweet to savory and fruity all at once. Few orange quarters on the side add some finesse and freshness to the creation. This is simply love in a plate.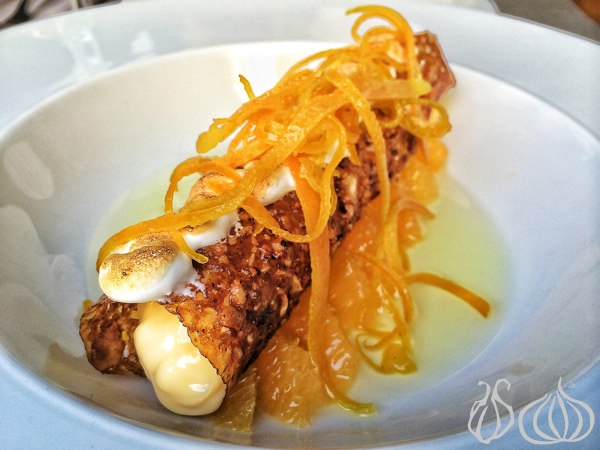 Crunchy caramel pieces, nuts, whipped cream, homemade vanilla ice cream, caramel sauce and some banana slices served in a long glass. Every bite is a journey to the land of desires. Every ingredient is individually tasty. This is a uniquely prepared dessert, I strongly advise you to try.
I can tell you about all the mille feuille around Lebanon's pastry shops but not one single restaurant does it the way they do. Crunchy layers of puff pastry smoothly break under your teeth before reaching the mature bananas, which makes all the difference. The caramel sauce, perfectly dozed is the sweetness needed to make this dessert unique. I love it.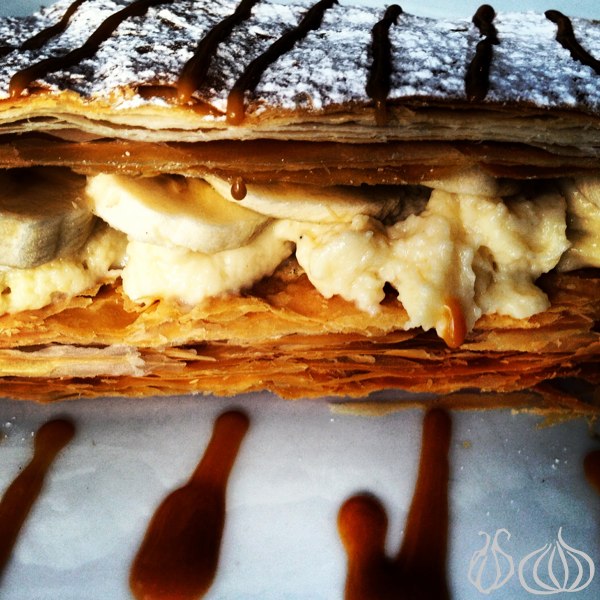 A Lebanese dessert that's just exceptional: a superb blend of cool vanilla ice cream, light biscuit bites, exotic loukoum and coffee sauce, topped off with hazelnuts. Loukoum are cut in small crunchy pieces that look like sugar cubes served with hot coffee and Ghandour biscuits. The mix will just let you say Yum!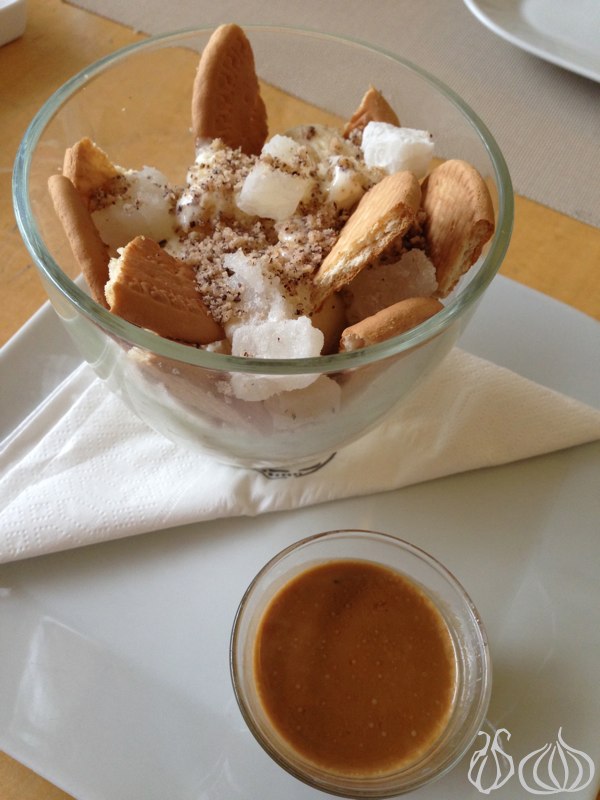 The last decade has been the era of fondant. All restaurants have tried to make their own, while many just serve the frozen version of it, which is actually perfect. Le Sushi Bar adds it's own touch by using unique Valrona dark chocolate. A warm piece of heavenly creation covers a melting heart of passionately delicious chocolate. Their fondant is heaven on earth.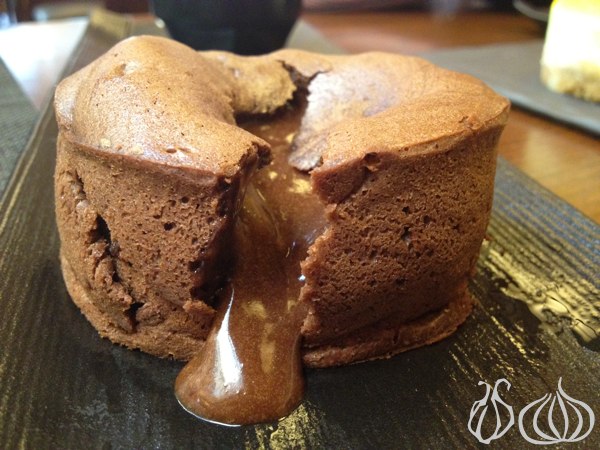 Babel restaurant is known for serving Lebanese cuisine with a twist and this includes their desserts. But there's one in particular that needs a mention: Mouashaha Vanilla ice cream topped with crunchy fresh Esmalliyeh dough, baked apples and fresh ashta cream. Accompanying the dish are dried raisins and a rich cinnamon aroma. Just imagine the cold ice cream and the crunchiness of the esmalliyeh all prepared minutes before serving. Baked apples marinated in cinnamon and the fresh ashta on top add a superb taste to the mix. I simply love it…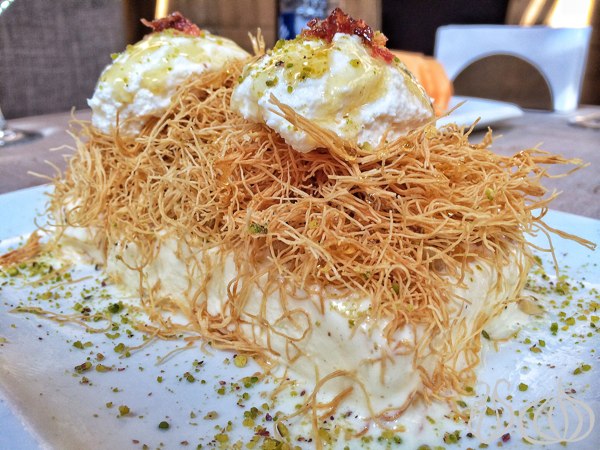 Good crepes are rare to find in Lebanon. The typical crepe is thick dough filled with Nutella. The Gathering has given crepes a new meaning by creating thin and crispy chocolate dough filled with melted chocolate and topped with a white chocolate sauce. The two crepes are closed like a Calzone pizza trapping all the flavors inside.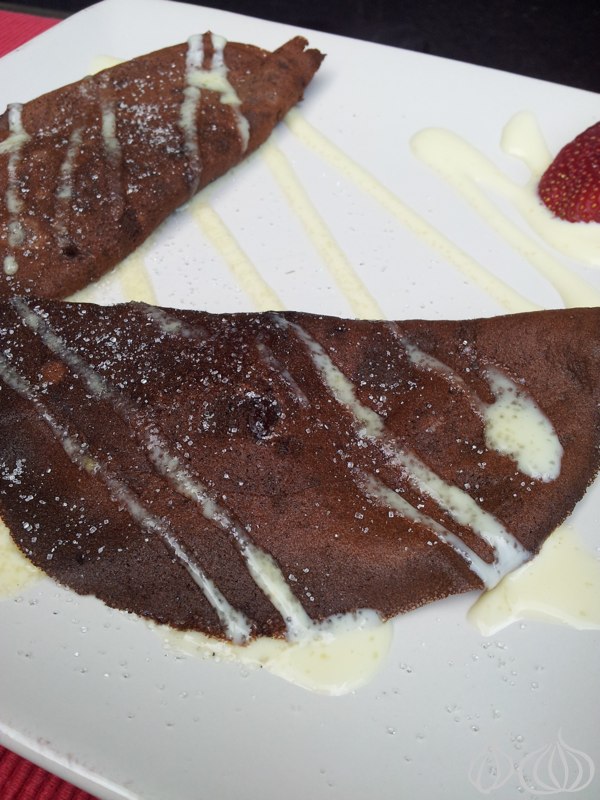 The desert deserves an applause! It is extraordinarily good. Adequately cooked, this thin giant cookie served in an iron pan is topped with a cold thick ice cream from Oslo. A rich and fluffy brownie served warm and enjoyable to the last crumble.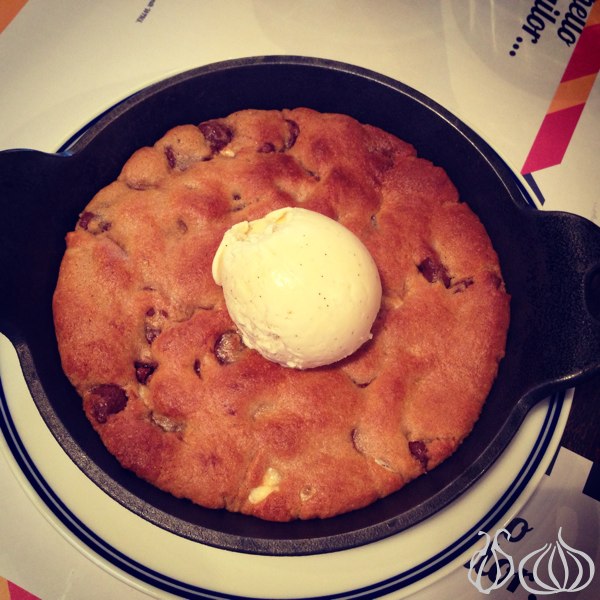 This coffee-flavored Italian dessert is made of cake biscuits dipped in coffee, layered with a whipped mixture of egg yolk, egg white, sugar and mascarpone cheese, and flavored with cocoa. Inside a jar is a thick layer of cake topped with cream and decorated with chocolate sauce. A cookie adds a touch of finesse and decorates the mix. This dessert is better ordered for two persons. I loved its rich smell of coffee and hint of alcohol aromas.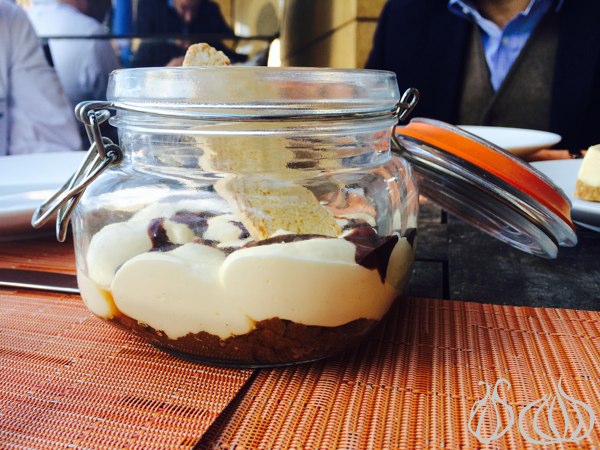 This dessert might loo like the Roadster's Marble Mud Pie but doesn't taste like it. A rich creamy ice cream filled with chunks of oreo biscuits creating an ice cream cake that will make you melt. Topping that is a caramel and chocolate sauce perfectly alined to create an eye-candy plate.
Why is Julia's Pain Perdu on the list, because Julia's is one of the first places to introduce the craze to Lebanon? Bread, caramel and vanilla ice cream perfectly dozed, soft like a pillow, moist and baked perfectly to every millimeter.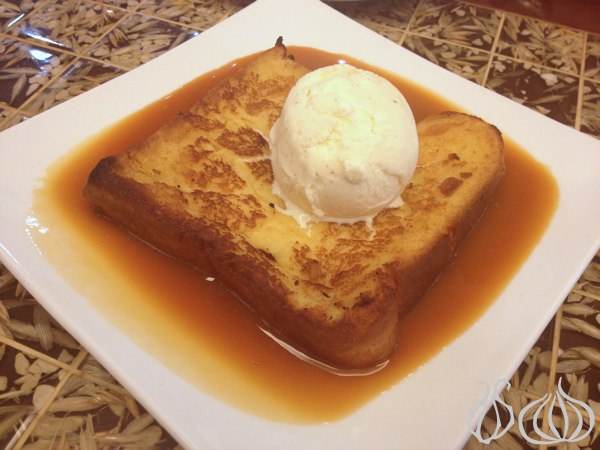 Le Talleyrand may be forgotten lately but surely not their famous dessert. They prepare the best in-house Mille Feuille in town. This signature dessert is cut into eight smaller parts shared on the table. Believe me you will never taste something that good. So light and crispy with the adequate quality of sugar to make it extraordinary: It is the best Mille Feuille Lebanon has to offer.
Warm chocolate cake with chocolate fudge filling, topped with vanilla ice cream under a crunchy chocolate shell. Love, joy, passion, excitement… You won't understand what I'm talking about until you try it for yourself: The Chili's lava cake cannot be described in words. A hot, airy and moist cake richly filled with a chocolate fudge filling that will activate all your taste buds in seconds. An interesting texture where a unique flavor is trapped in for the pleasure of your senses.
Just imagine, in case you're not acquainted yet with the Marble Pie: A cake-like shaped ice cream covered in premium caramel and decorated with chocolate sauce. A signature mix of vanilla and chocolate ice cream embracing chunks of condensed brownies over a layer of rich biscuit is just to die for. This mouthwatering dessert deserves an award.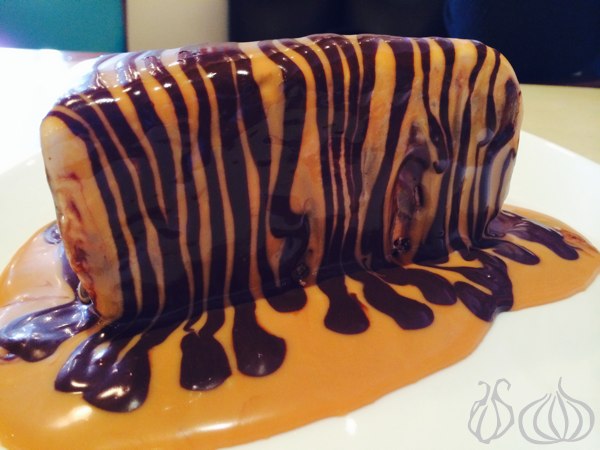 My friend was laughing at me while I moaned after each bite of this sumptuous chocolate mousse served in a jar. Inside is a layer of cake topped with a layer of cream, one of light chocolate covered with a thick dark chocolate cream. Exceptional if I might say so. I was amazed.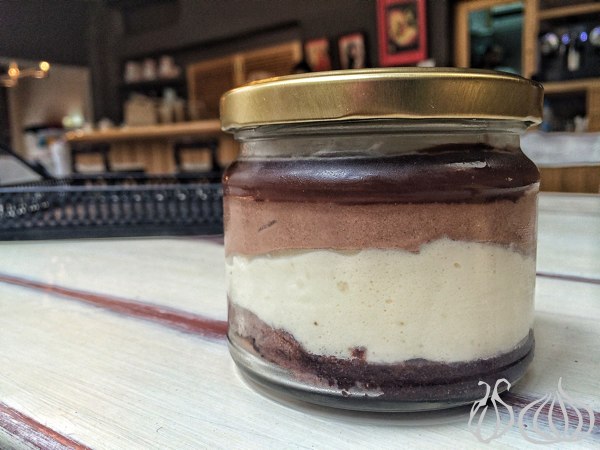 This is the only dessert not offered at a restaurant but worth being part of this list.A layer of pistachio purée, green like grass, topped with cashew nuts, a layer of ashta and on top of it more pistachio with little sugar bits shining beautifully in between. The pistachio mixed with semolina slide under your teeth, erupting with a rich taste while a strong flavor of pistachio caress your taste buds. Premium quality, cold and fresh ashta (clotted cream) follows all this, melting together under your palate until you crunch into those cashew nuts which will put a smile on your face. While enjoying those heavenly bites, all you have to do is close your eyes and feel the perfumes of orange blossom and rose water taking over your brain cells. Believe me when I say that I've never eaten anything like this in my entire life.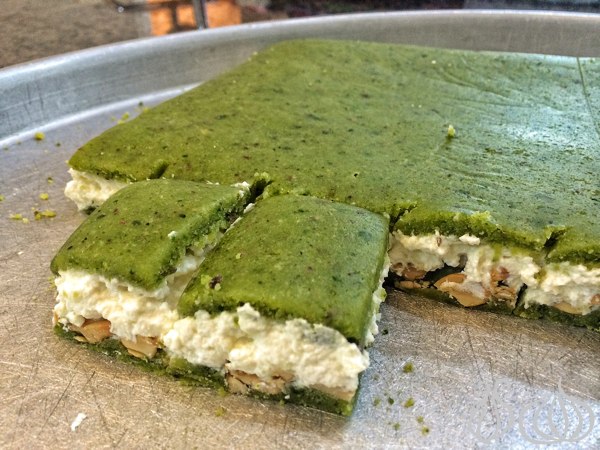 When the plate landed in front of me, I was in awe. A round plate filled with a rectangular piece of thick bread that is meticulously decorated with a mix of bananas, apples and strawberries. Around it and covering it is some maple syrup that gave it the flavor it needed. This is a dessert I love; I say a dessert because naming it 'French toast' is not enough. A thick piece of premium bread topped and stacked with maple syrup, slightly crunchy on the borders and chewy inside, married with the fruits made of it an unforgettable experience. Exquisite!
Just imagine and dream: An enjoyably chewy, caramelized dough covered with apple slices, soft like butter, adequately sweet, mixed with cloves, moist and tender. Every bite leaves an enjoyable aftertaste that lingers in your mouth for five minutes guaranteed. This is a very good dessert.
Imagine a huge piece of chocolate cake that's surely not from planet earth. A triangular shaped cake sliced in three pieces and connecting each is a rich layer of chocolate spread… and covered with dark chocolate. Grab a bite of all the layers combined. As your tongue feels the different textures and different flavors, you start feeling heaviness along your eyes as they close… An interesting spongy feeling, lovely sweetness, condensed richness…
Meringue is not the easiest of things to prepare, sometimes giving-off a bad, repulsive smell only professionals know how to master. This meringue is extremely tasty, beautifully presented and worth coming back for. Light crunchiness and subtle creaminess where every bite takes you on a journey around the world.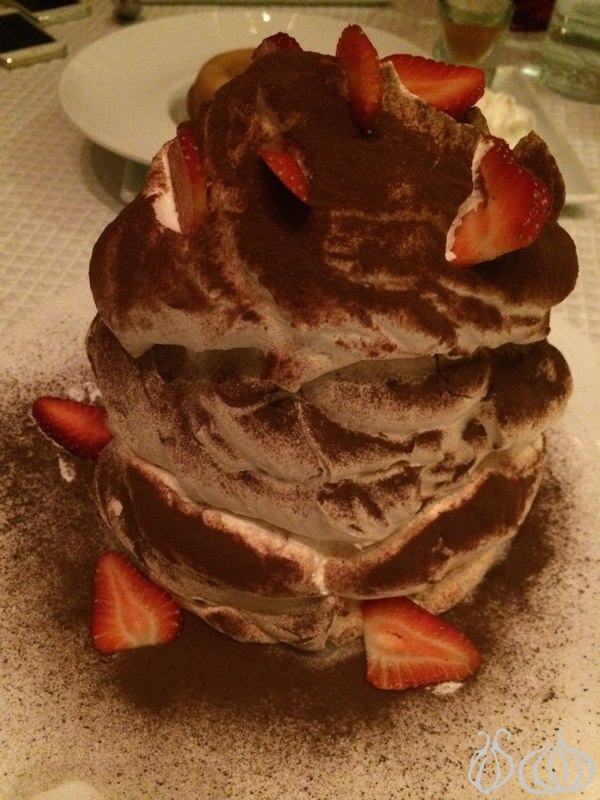 "Un sans faute" wow. Yes, officially one of the finest Pain Perdu in Lebanon. Two large bricks of bread covered with caramel sauce served with a scoop of vanilla ice cream. Slightly crunchy on the outside while softer and more tender on the inside, filled with milk, butter and sugar that blend perfectly together. Some almonds decorate the plate, soaking up a caramel sauce that's not sweet and rich in flavors. Two thumbs up.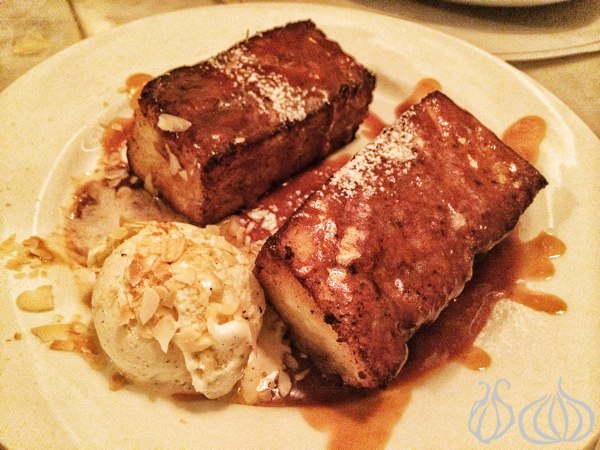 Extraordinary and fantastic. A slight crunch, an enjoyable yellow light pastry cream and whipped cream on top. I cannot tell you how overwhelmed I was while eating it. It's so awesome! So excellent! So exquisite!
A Pizza covered with crunchy biscuits and drizzled creamy caramel sauce. Just imagine the same unique dough covered with caramel sauce that melts from all sides while Speculoos biscuits add crunch, flavor and spice. Those thin, very crunchy and slightly brown biscuits blend perfectly well with the caramel adding just the right amount of sweet to the mixture.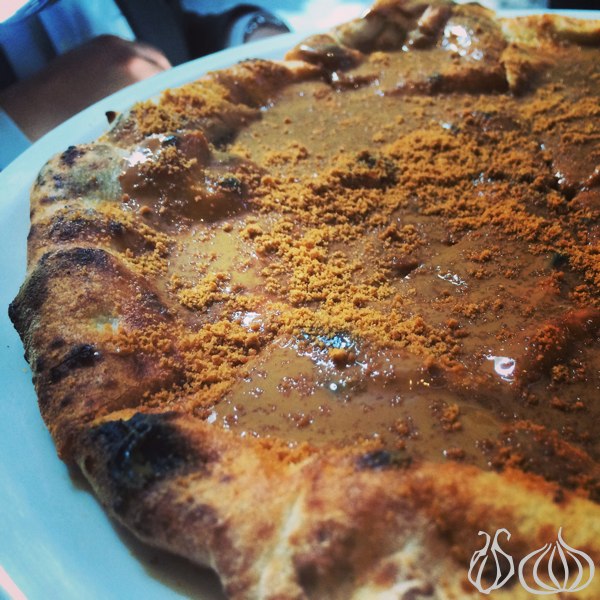 Halawa, who doesn't know it? But did you taste it as an ice cream? A multi-layered piece of cake with Musk ice cream, biscuits, chocolate ice cream and halawa ice cream with jellabe sauce decorated with coconut powder. An excellent one. Just imagine halawa and chocolate flavors, tender biscuit while the jellab ends the experience in style. I love it!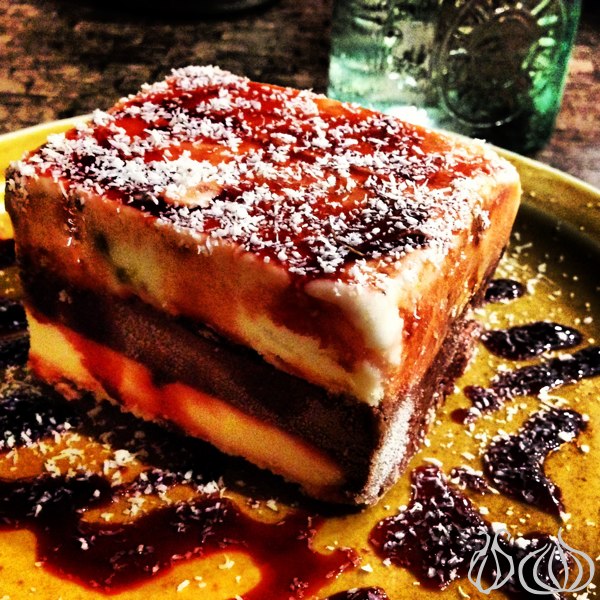 The Cheese cake as we know it has been revisited Middle Eastern way. Enjoy a thick crunchy biscuit topped with a rich cheese filling and covered with a crunchy puff pastry layers soaked with sugar syrup while nuts and pistachio add a crunch here and there, enjoyment in every bite.
Roasted mango and fresh fruits, orange wafer, filled with Malagasy vanilla panna-cotta. I didn't expect to eat something with such finesse in a bistro. A thick piece of mango, slightly roasted to extract all the flavors, is covered with a fruit salad of fine little cubes and served with a cylinder wafer filled with pannacotta that explodes with premium vanilla flavors. The sauce adds the required juiciness to make this dessert just perfect.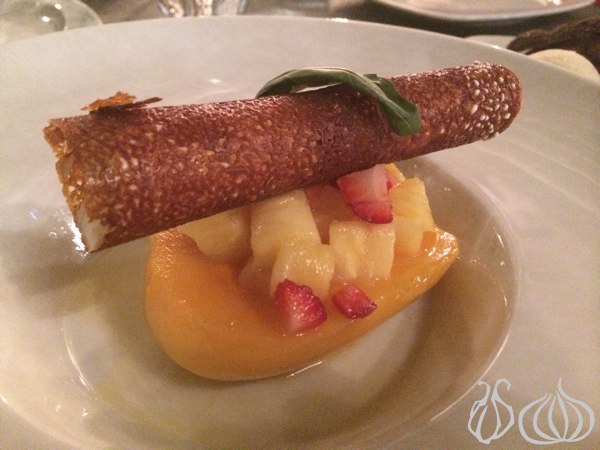 A rich piece of puff pastry filled with pastry cream and thin slices of mango. This is different than your average mille feuille, this one has a unique shape, some cream filling and thin layers of mango that make all the difference. Mouthwatering and extravagantly tasty.
Bravo, bravo, bravo. It's worth visiting Michel just for this cake. A moiety piece of that incredible dark chocolate that tastes like chocolate truffles melting peacefully under your palate in style and finesse.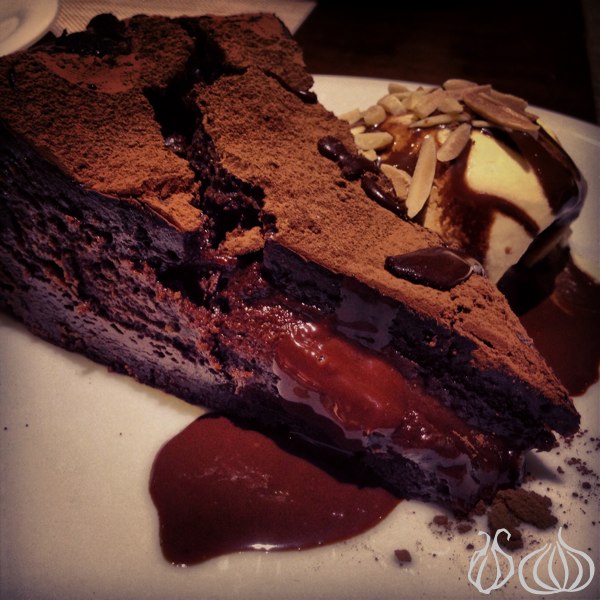 On a wooden boards, a long Mille feuille is served. Three layers of puff pastry in between which a thick layer of pastry cream is laid. Beautifully looking, this dessert will make your mouth water. A slight crunch, a sumptuous creaminess and a caramel sauce that add some sweetness. I loved the idea behind this cake, the crispiness of the upper layer, the richness of the cream and the sweetness of the caramel...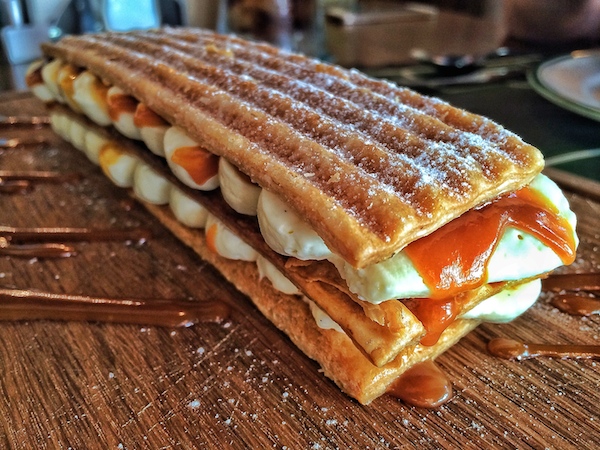 On a round plate was served: A large piece of square bread, nicely soaked in milk, perfectly cooked and covered with a layer of crunchy, caramelized sugar. To top it all, a caramel sauce covers the mix in style. Awesome to say the least. That's a real, simple pain perdu, exactly as it should be and as the French created it. I loved it.
33 desserts and counting... I'm sure there are many more I missed hoping that I'll have the chance to review them in the near future. Please share with us your favorite cravings.